Tempera or Washable Paint


Two or three brushes depending on number of colors used


White Paper (construction, scrapbook, or cardstock)


Half an apple cut horizontal per child


Paint containers(small cups or plastic pallette


Paper towels
STEPS
Select colors to be used.


Cut an apple horizontally and remove seeds gently.


Have child paint directly on apple half with paintbrush.


Press onto paper making sure to help put some pressure on all areas for best print and to help keep it from sliding.


Wash apple and dry on paper towel if changing colors.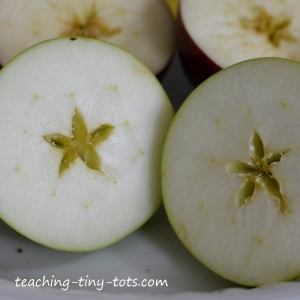 TIPS AND SUGGESTIONS
Having a brush for each color makes it easier to monitor.


Test to see what is enough paint...too little or too much you can lose the star shape.


Thicker paper will not "wrinkle" as much when it dries.


Guide if overlapping so you don't lose the stars.

OTHER IDEAS
Use other types of fruit like oranges. Or cut apple into small pieces to add some detail around the printed apple stars.


Great activity any time of year or to use in a Fall unit.


Print on paper, fold and make a card.

EDUCATIONAL TIPS
Toddler activities involving paint are a great hands on experience. It helps develop fine motor skills as well as leads to many concepts like colors and numbers.


Ask your child which color he/she wants to use.


See if your child can "predict" what shape they will print. I thought they would say circle but they noticed the star right away.


Count the number of stamped shapes or the number of colors used.
Source:
www.teachingtinytots.com